Do or Don't Tread on Me: Area Rugs 101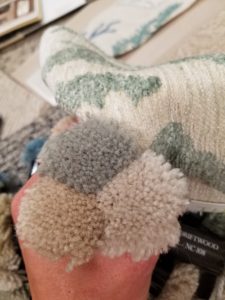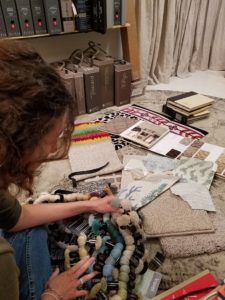 Pictured to the right is Athena designing a custom rug with our vendor Fabrica! Each loop color is hand picked through the process to insure the end result meets exactly what the client wants. It's Athena's discerning eye which focuses on each detail that makes Odyssey stand above the rest! Area rugs act as an anchor to a room as they pull all of the furniture together. Whether it be subtle or outrageous the perfect area rug can compliment the surrounding environment by bringing in the color tones of the rest of the house, creating a feeling of unity between each piece of furniture no matter how eclectic they may be.
Athena encourages you to not to be deceived by different qualities of "oriental rugs." If you are in the market for one of your own make sure you go to a trusted vendor. Fine orientals can hold there value just like a piece of art and sometimes your investment can stay the same or even go up in value depending on how it ages, the region  it comes from and the materials your rug is made from. Today there are so many impostors that use bamboo and other synthetic materials as silk and tufting is swapped in the lingo in replace of "handwoven" or "knotted." If you are in the market for a inexpensive, easy to live with area rug consider the fibers that they are made from for easy clean ability and a weave that wont pull, snag or tear. Other than those two lessons have fun with your color and style and give your feet a break from hard surfaces for a soft feeling under foot!