Le Bain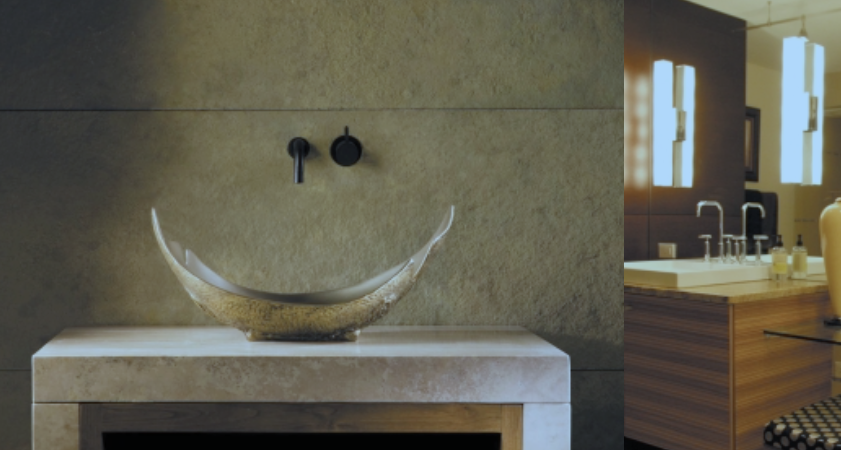 In most homes, Le Bain or the bathroom's sole purpose is that of convenience and utility. Yet when it comes to high-end homes, I have had the privilege to design very detailed and intricate master ensuites that showcase hundreds of square feet of prestige and pure luxury!
Based upon my experience, one has unlimited options when designing a luxurious master bathroom. Unique opportunities abound, ranging from customized "his and her" vanities with intricate interior cabinet detailing to storage spaces for powered gadgets or flat screen televisions hidden behind mirrors. There are endless selections of bath and jetted tubs in every style and size and marvelous showerhead combinations that provide enough bells and whistles that they qualify as a human car wash.
Let us not forget the chance for great lighting, especially for the ladies. Who wants a bad shadow when applying make-up? Aside from functionality, efficient and effective lighting design has the ability to create a warm atmosphere, producing a unique mood from morning to night. From tile details to frameless glass shower enclosures, planning and designing a true luxury master bathroom requires attention to detail and properly executed specifications, making it one of the most highly detailed rooms in your home.
After twenty years of experience in Interior Design, I find it truly fascinating that without fail the powder room is the crown jewel of every luxury residence. A small jewel box of "bling", where vanities are specially made furniture pieces, countertops are dressed in precious stones, sinks and faucets let loose as the most unique and memorable functional pieces of art. Decorative mirrors dress the walls while unique sconces and miniature chandeliers are the icing on the cake! Not to mention the bountiful selection of wallpapers, faux finishes to trumpe 'loiels, artistically setting the visitor of the powder room on a new adventure in just one quick visit.
I always enjoy the design challenges of these intricate spaces. When the opportunity presents itself and you are remodeling or designing a home from the ground up, it is important to study the plumbing selections early and plan with your designer and general contractor accordingly. Many unique plumbing selections require advance planning for a successful installation. This remains especially true for faucets that are wall mounted, sinks that resemble bowls and stand proud off the counter to body sprays that are ergonomically laid out to the comfort height of your own physical form. I personally measure my clients' thigh, lower back and shoulder height and specify this in my drawings to get the wall mounted body spays just perfect!
Material selections are also important for the styling and coordination of cabinetry, counter tops and tile. Selecting resilient stones and non-slip surfaces can sound generic but with Mother Nature's bountiful selection of natural materials the possibilities are truly endless. I tend to start with what the earth naturally has produced and has found itself on a showroom wall as the selection of counters and flooring. I pick cabinetry next, as various wood species react differently to stains and glazes and can be mixed and combined to make the perfect compliment. Never ignore the overall design of your residence, for future resale you want your luxury bath to feel like it is in harmony with the rest of your home's style. Nevertheless, the powder room is the ultimate exception; where ones imagination and budget can soar wild and free. It is not just the bathroom anymore; it is Le Bain!