La Cucina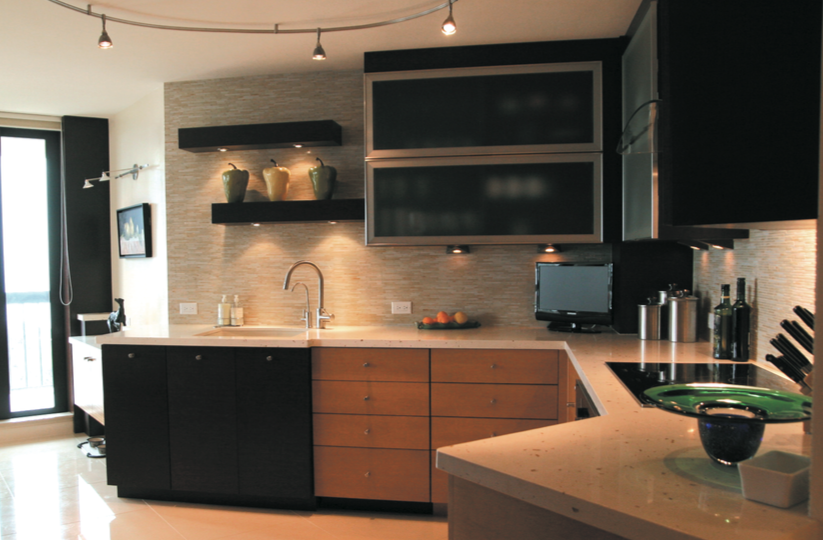 When we think of the hub of our home, the place where the day starts and the last lights are turned off at night, we think of the kitchen. Most of my readers now know that I grew up in an Italian family. There wasn't a day that went by "la Cucina" was not in full motion with the sounds of pots tinker- ing on the counter, simmering of onions, garlic and fresh cut herbs waft- ed up the stairs and throughout the house; undeniably you knew that something good was brewing in the kitchen!
Working as an Interior Designer on high end, luxury homes I have had the opportunity to specify the best appliances and plumbing fixtures available on the market. I have designed several homes with 5 foot long gas ranges to 5 foot long sinks and six feet of refrigerator and freezer combinations positioned side by side! How does it all fit you ask? In a really big house of course! Generally if you need a kitchen this big your home already accommodates several guests and you are probably going to have big parties of people even if it's not a party! Service of many plates from appetizer to desert, many glasses from aperitif to champagne, espresso to cappuccino cups and everything in between, all which need to be stored somewhere. Most importantly, a minimum of two to three dishwashers to assist with clean up when the day is done!
One of the design services my husband JR and I introduced to our company was becoming a cabinet dealer, not only can I design it, we can order and install custom specific kitchens for our clients too. I have witnessed multi-million dollar properties that had kitchens missing the essentials! From a trash pull out, utensil divider drawers to pull out storage are just naming a few of the obvious needed items that went regrettably overlooked! When I design a kitchen with my clients, we study how you will use your kitchen, I make you think about where you would want to turn from the sink to dishwasher, to loading of the cabinets and where you would chop and prep with distance to appliances and trash. I study the complete ergonomics and space planning to make sure you can open your appliance doors to full swing and still navigate around them. I've seen the mistake in homes where you and the design works. It's time to dress it up and make it beautiful. The options and combinations are absolutely endless. From wood to stone floors, the plethora of granite and solid surfaces to endless choices of decorative backslashes. Designing the style of your kitchen is a huge undertaking no matter how big or small, the price is significantly disproportional to the rest of the house for the most part and each decision is very important! My thoughts are to make sure the style of the kitchen cabinets is in keeping with the style of your home and the rest of your interior decor. Whether your look is modern or traditional, in an open or compartmentalized floor plan, the kitchen should blend in style, color and theme to the rest of your home. Picking out door profiles and colors seem daunting enough, but don't forget the decorative hardware and decorative lighting which are the continued layers that speak and sometimes sing to the overall design style.
If you can have a great kitchen and you know how to use it to boot, you have the one of the greatest joys in life. "La Cucina" is the hub of the home, a place to bring everyone together as chef, sous chef or spectator to enjoy the culinary arts. It is rewarding and enjoyable when you accomplish a satisfying and tasty meal. Not everyone is a Cordon Bleu graduate but you can certainly be "Master Chef " of your own domain. This coming holiday season, from our kitchen to yours, we wish you, your family and friends an enjoyable and memorable gathering around "La Cucina".