Le Jardin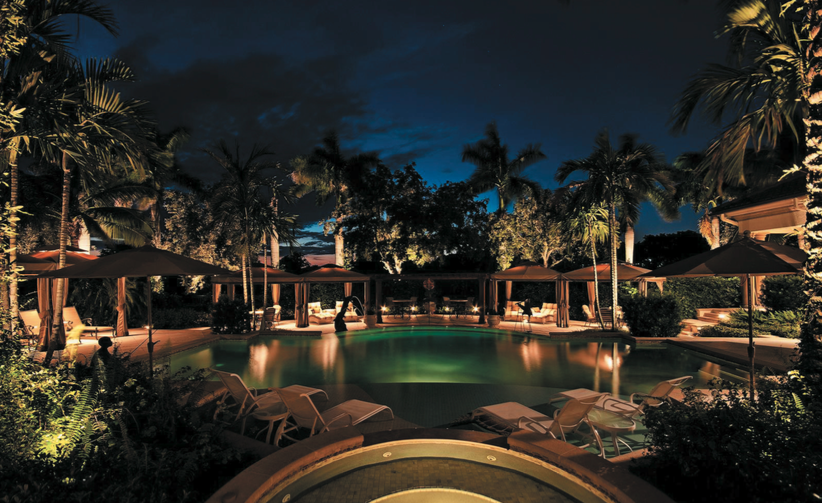 Photo by Bill Earls
A beautifully designed outside space is just as important and sometimes even more spiritual and thought evoking than any four walled room. When I started my artistic journey in design school in Toronto I never imagined that I would also design driveways, private court yards and pool areas too, all of which incorporate elements of landscape architecture. Many times as a professional Interior Designer, I am asked to help with the landscape plan. Despite not being formally trained as a Landscape Architect I have gained significant knowledge of the craft by rolling up my sleeves and learning by doing, taking pride in the fact that I have a keen perspective of the benefits for my clients and the design process that carefully incorporated plants, lights and water features, can provide. Nevertheless, partnering with a professional landscape architect is important; their knowledge is significant and to be able to enhance their design decisions for the benefit of my clients creates added value.
We have a magnificent tropical atmosphere with growing green foliage 365 days a year. We have temperatures that are welcoming to an outdoor living environment, why not take heed of this this great gift and really invite the outdoors in and the indoors out.
Some large homes have giant pocketing sliders that I have a keen perspective of the benefits for my clients and the design process that carefully incorporated plants, lights and homes have giant pocketing sliders that pocket into the wall and make both spaces act as one. But to truly do this successfully, the outdoor needs to flow seamlessly off this threshold.
By understanding the thematic reasons for a certain design, I can articulate the
needs of my clients. Some important questions I like to review with my clients before the design process begins are: do you need adequate sun worshiping space
and cool breezy spaces? Is there a need for a secret garden space for privacy and meditation? Do you like to gather with groups for BBQs and share good times around the fire pit? How do you intend to use your pool; will there be a hot tub or chaise lounge shelf? How much noise reduction does the property need, are water features and fountains necessary to dull the sound of a nearby roadway? Is privacy and safety required, especially with a pool and getting appropriately designed fencing.
Beyond the basics of creating a design layout, a theme should be considered so all
the materials, both hard and soft speak to the design intent. Pathways, pool decks, water tiles, and garden structures need materials chosen in coordination with a color and scheme in mind. Adding layers of plantings and the location of each garden can reflect the hierarchical nature of your design theme too, whether it be "country", "tropical", "formal" or even "modern."
In addition, lighting design can be used to set the mood for any occasion. This could range from LED colors in the pool, up-lights into the canopy of giant trees, little side walk path way lights or formal lamps. And when the atmosphere is set, possibly a piece of garden art or garden folly, for a little mystical joy. These elements can range from a simple garden sculpture to a magnificent focal point!
As many of you know now, I grew up in Niagara-on-the-lake, Ontario; the grounds of the Niagara peninsula are painstakingly well manicured by the Niagara parks commission from Lake Ontario to Lake Erie. I spent much of my youth traversing the escarpment, parks, gorges, and botanical gardens that line the 36 miles of the Niagara River.
My mom to boot loved to have flowers and plenty of them, every spring we had to go to the nursery and get pallets upon pallets of flowers for the garden, hanging pots and planters area. In addition to the annuals we always had great garden perennials of roses and tulips and hydrangeas that lined the full length of the front drive. In addition to the flowers, a food garden was always very bountiful at our house. Like the wine cellar, it too prompted a little Italian family friendly competition between my dad and my "Zios" (uncles) gardens! Though ours was hugely abundant, I have to give the trophy to my Zio Enzo who always had a super bountiful raspberry garden. After 30 years he still keeps a small patch for me to enjoy. Last time we visited Niagara we missed the harvest, but it did not stop my Zia from hanging little baskets of raspberries from the branches so my kids could experience a raspberry pick! Regardless of who grew what; I spent many days with my dad till- ing and prepping and planting. Later staking then picking and eat- ing! Did I mention watering and watering and watering…it seemed like a chore I was never done with!
After all that time, you would think I would have a green thumb; but I pass that award on to my husband. JR has the ability to pick a dried looking old root, stick it in the dirt and it miraculously begins to grow…I always tell him, he truly has the green thumb in the family. I love our back yard, we have been working on evolving the space for years, just when I think it might finally be done, there is another metamorphosis!
Your backyard is another world, private and kind without noise or interruption. You should be able to enjoy the garden, build memories in the garden, heighten your spirit in the garden and become one with nature in your garden. After all, it's not just a garden…its le jardin!