Are You Covered?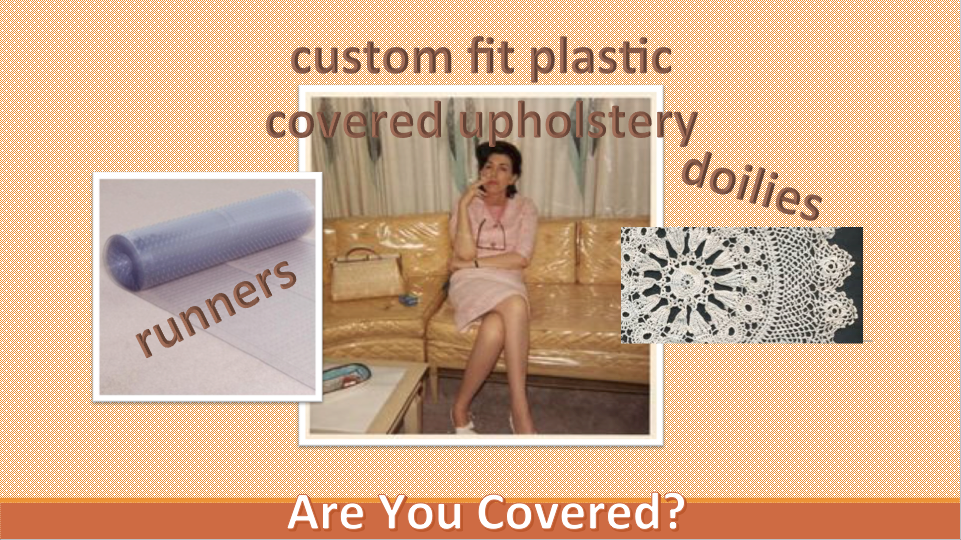 Here's a Seems Like Yesterday flash back; Are you covered?
I was just thinking about my Nona's house ("Nona" is "grandmother" in Italian) and of her plastic covered protection on everything! Do we live in a very disposable society now or have fabrics improved? It's expensive enough sometimes–even more than buying new in many cases–to recover an upholstery piece, which made me think about the companies that serviced these oddly, super well fitting, custom plastic covers for sofas. After a fun walk down memory lane with some friends on this, I realized that there was a great industry that had to have had a great boom in custom fitted plastic frame and pillow covers. They weren't loose or one size, they fit like a glove!
Naturally this lead me to recall the runways of plastic runners with spikes into the carpet. Again we laughed at how we would turn these over to race in bare foot across the spikes with our cousins to see how far you could get…like a burning coal run…it was a hilarious kill of time at grandma's house. And that, my friends, is how I got my first stitches (½-inch from my eye), as I tripped over a wave in a plastic runner to find the corner of the wooden TV console!
Finally the doily; which covered anything with wood surface or chair that did not have the plastic wrap. I picked up a boat load of doilies at a yard sale last year. Why you ask? Not really sure, but I was fascinated that each pattern had multiple matching sizes to fit side tables, short dressers and long consoles to keep each room in coordinating doily pattern! The pride this older couple had taken was being sold off for pennies by their children; I was struck by the lost era to protect their furniture investment. I put one on display and put the rest in an old cotton seed sack. I liked them, but I'm not crazy; I'm not decorating every piece of furniture in my house with them!!
Yes, plastic covered furniture was horrendous to sit on, runners were a liability and doilies a pain to deal with. The fashion of this has past, no one seems to want resurrect this "style" in home furnishings, at least not yet… So, how do you stay covered? In my business I hear younger families say, "I have pets and kids; I need furniture that is disposable!" I hear grandparents say, "I need resilient, washable fabrics," willing to pay a little extra for pretreated fabric protection direct from the suppliers. And everyone wants the miracle top coat on their wood furniture, glass that won't scratch and floors that won't mar.
Plastic anyone?